Some details about our [Top-selling] Personalized Vintage NRL Wests Tigers Ugly Christmas Sweater
KEY FEATURES:
Comfortable and versatile, this sweater is perfect on its own or as a layer under a blazer or jacket
This casual wardrobe essential comes in a lightweight fabric perfect for comfortable everyday wear
Suitable for special occasions such as Christmas, birthdays, celebrations, and housewarming gifts.
PRODUCT INFORMATION:
60% cotton – 30% acrylic – 10% Spandex
95% polyester – 5% spandex
Wool active fiber is used to react to your body's temperature, thus keeping you warm in the Winter and cool in the Summer.
PRINT: Dye-sublimation printing
WASHABLE: Machine wash cold, only non-chlorine bleach when needed, hang dry, cool iron on the reverse side or dry clean
PRODUCTION TIME: 3-6 Business Days
NOTE: [Top-selling] Personalized Vintage NRL Wests Tigers Ugly Christmas Sweater
– Since the size is manually measured, please allow a slight dimension difference from 1-3 cm.
– Due to the different monitor and light effects, the actual color of the item might be slightly different from the visual pictures.
CUSTOMER SATISFACTION IS OUR HIGHEST PRIORITY. IF YOU ARE NOT SATISFIED, PLEASE CONTACT US TO SOLVE THE PROBLEM. WE HOPE YOU HAVE A GOOD SHOPPING EXPERIENCE HERE.
Care Instructions for Sweaters – [Top-selling] Personalized Vintage NRL Wests Tigers Ugly Christmas Sweater
You know precisely what you want to grab for when getting dressed in the morning when it's freezing outside—not your silky camisole, your stylish blazer, or your beautiful business top. Instead, look for a dependable, snug sweater that is so comfortable you never want to take it off when the weather is chilly.
A sweater is without a doubt your closest friend from the beginning of fall to the end of winter. And sweaters need love and care just like any other best friend. Despite how delicate they are, if you handle them properly, they may last numerous wears and seasons. You can properly care for all of your knits by following these eight suggestions, which will help them last as long as you want them to:
1. Properly remove pills
Is there anything more annoying than a treasured sweater pilling? After a while, even a nice and attractive wool cardigan can start to resemble an ungroomed dog. Sadly, all sweaters pill. This is a wear-related phenomenon that is particularly noticeable behind the elbows, under the armpits, and on the sleeves, but it can happen anywhere on the sweater.
Holding the sweater flat with one hand will make it easier to cut the pills out one at a time. Also available is a pill remover. Avoid pulling on them to prevent the worsening of the pilling.
2. Inside-out any glaring snags
Snags, also known as when a stitch breaks out of a sweater, are the worst since they appear to be impossible to cure and increase the likelihood that the sweater may unravel if the snag is caught on something. Snags can't always be entirely fixed, but fortunately, they can be moved inside where they won't be seen from the outside.
To fix a snag, all you have to do is flip the sweater inside out, place a crochet hook in the stitch just next to it, and carefully pull the snag through (a safety pin will also work in a pinch). The snag won't be visible to you anymore, and you won't have to worry about it getting hooked on anything.
3. Consistently remove hair, lint, and dandruff
Due to the cozy wool, knit, or cashmere that we all know and love, sweaters occasionally have a magnet-like quality that draws and holds dust, lint, dandruff, or hair strands. For an easy remedy, use a child's soft hairbrush or a soft toothbrush to swiftly brush out anything on the sweater (looking at you, dog hair!).
Be careful not to brush the sweater too vigorously, though, since this could loosen the fabric and cause pills. Although you can quickly clean all of your sweaters once a month to avoid lint, dandruff, dust, or hair buildup, you can brush through after each wear.
4. Have washing skills (and when)
PSA: Cleaning your knitwear doesn't need to be difficult. The majority of sweaters should be hand cleaned to preserve the fabric and make them last longer. To wash by hand, place the sweater in a sink or pail of lukewarm water, add a small amount of mild laundry detergent, and let it soak for about 30 minutes.
After that, rinse it with cool water. Never wring out a wet sweater; instead, gently squeeze the water out of it before rolling it up in a towel like a sleeping bag or sushi roll to absorb all the extra moisture. Finally, spread it out flat to dry on a towel or drying rack.
Wool or polyester may tolerate roughly five wears, whereas cotton and cashmere normally need to be washed after two to three. However, be careful to adhere to the label's instructions and refrain from washing the sweater more frequently unless there is a stain (like sweat or a spill). And you know the drill if it says dry clean only (as it does with the majority of wool).
5. Put on a T-shirt underneath to prolong the washing.
Any sweater might lose its quality, fabric, or softness over time, even with mild hand washing. If you wear your sweaters regularly, think about donning a T-shirt underneath to increase the interval between washings. A T-shirt serves as a barrier between the skin and the sweater, reducing the number of odors and environmental factors to which the fabric is exposed.
The sweater lasts longer when you wear another garment underneath that serves as a barrier since substances like sweat, body odor, oils on the skin, and deodorant can cause wear and tear. Your only concern right now is spilling your cappuccino.
6. A scratchy sweater can be kept.
Is there anything worse than a sweater that is so scratchy that it no longer feels cozy? When hand-washing your sweater, add liquid fabric softener to the cold water to transform it from scratchy to soft and cuddly. Let the sweater sit and completely whirl around the water.
For added smoothness, you could also try substituting half a cup of hair conditioner for the fabric softener. Just be sure to stick to moisturizing or regular conditioner and avoid 2-in-1 conditioner/shampoo combinations or hefty hair masks (not other formulas meant for volumizing or thickening). Your sweater should be back to its soft and cozy self after one to three treatments.
7. Maintain sweater storage
Never hang sweaters, say it aloud. Sweaters will stretch out and develop peaks in the shoulders when they are hung. Sweaters should be kept folded, coiled, or stored on shelves or in drawers to preserve their quality and shape. Laying them front-down on a flat surface, fold each arm so that it runs diagonally over the back of the sweater.
Then, either roll it from the bottom hem to the collar or fold it in half horizontally. If you must hang them, avoid creases by folding the sweater over the hanger and placing it on top of a piece of tissue paper.
8. After winter, store sweaters – [Top-selling] Personalized Vintage NRL Wests Tigers Ugly Christmas Sweater
Yes, all good things must come to an end, and after sweater season is gone, your sweaters need to be stored properly to provide additional protection and help them maintain their form throughout the spring and summer. Don't just stuff them into trash cans and cross your fingers.
Spend some time cleaning them thoroughly, folding them, and storing them in breathable garment storage bags or boxes (as long as they are made of cotton or canvas). To keep them from getting bitten by mosquitoes and to keep them smelling good, include a little bag filled with lavender. Don't store sweaters in vacuum-sealed storage bags, expert advice. Even though it could appear to be conserving space, moisture retention might lead to mildew or discoloration.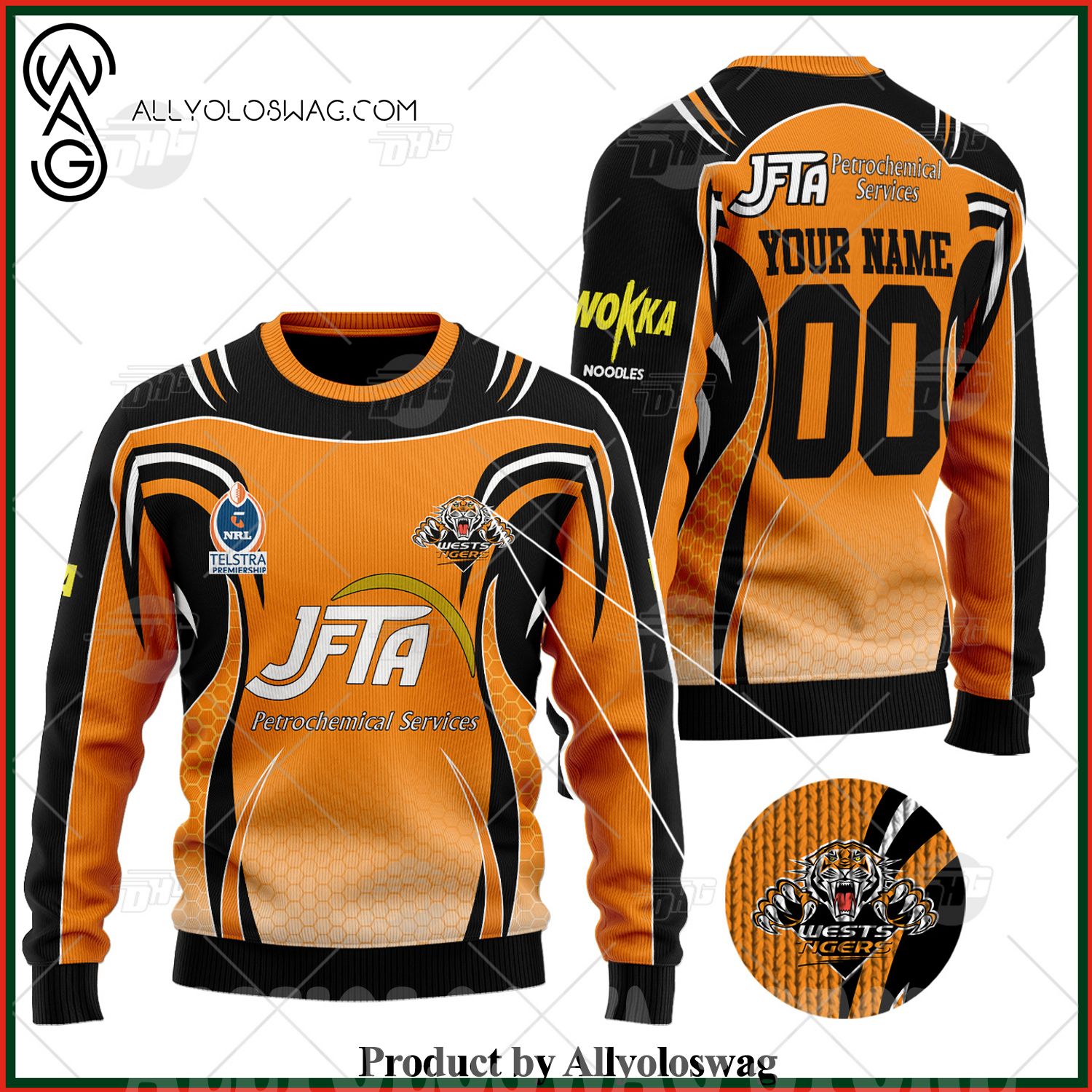 NULL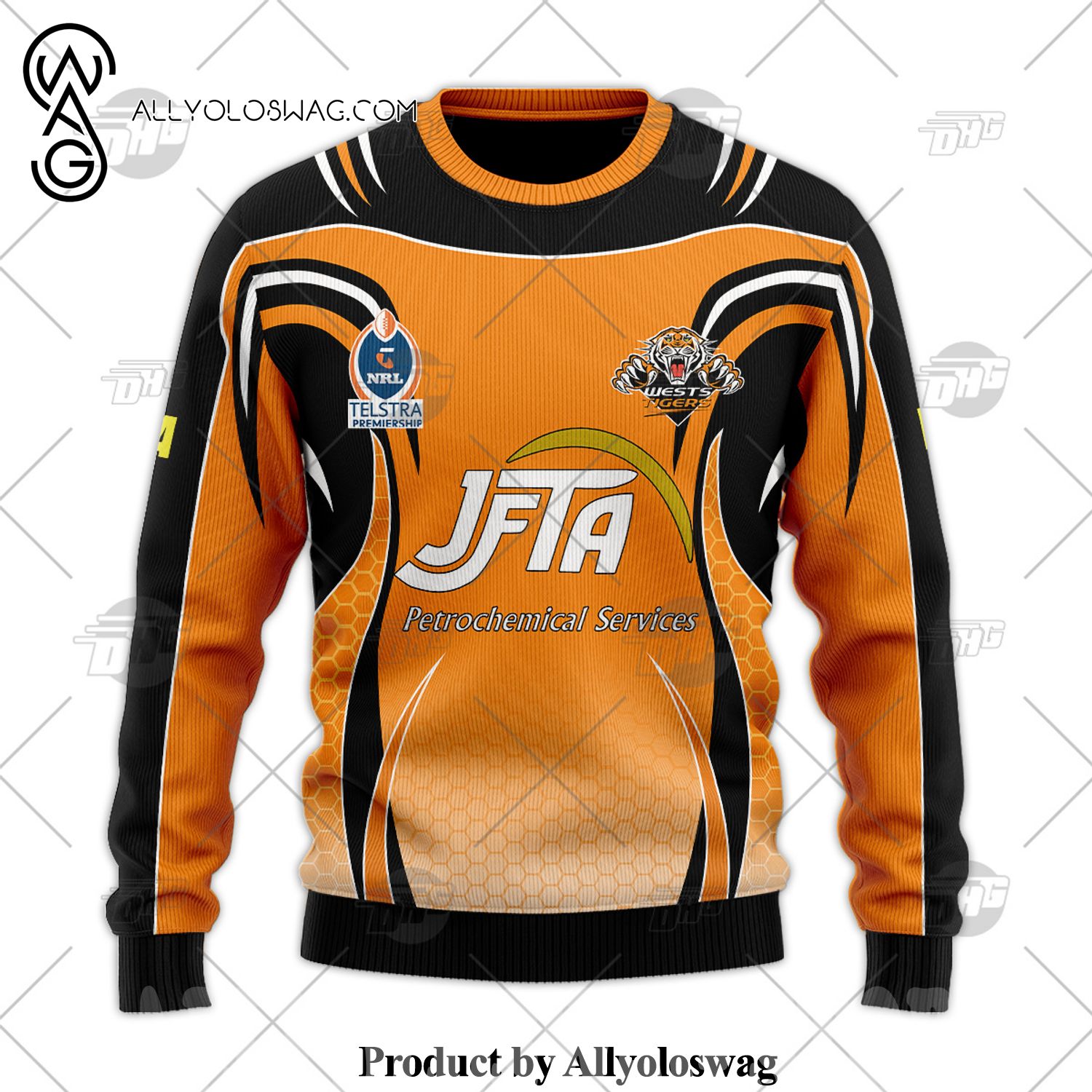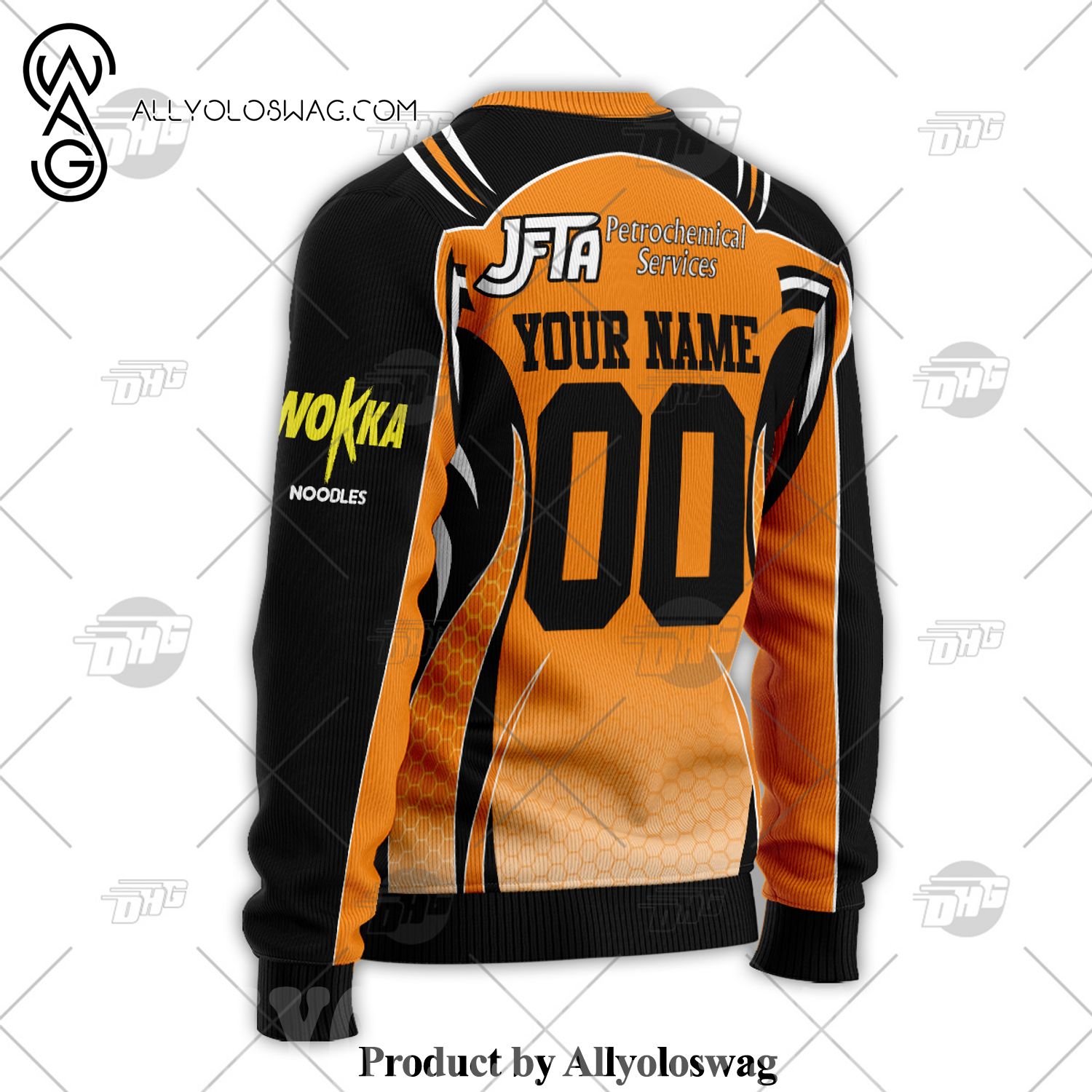 Contact us:
Homepage: https://allyoloswag.com/